Whenever I tell people that I'm downsizing, they wonder if I'm going to have a yard sale (or garage sale, tag sale, or whatever you call it in your part of the world). It's as though the yard sale will take care of all the clutter and collections and detritus of one's life, and poof, it will be gone. I am too jaded to believe in that kind of magic. But having a lot of stuff, especially items that can't easily be donated or sold to dealers, like art, we knew we had to consider all options.
PAST PERSPECTIVES ON YARD SALES
At one point in my life, I couldn't resist stopping by and checking out a driveway, with its rickety tables and shelves piled high with motley goods; an old gilded (flaked in spots) mirror leaning against the chain link fence, boxes of CDs or dog-eared books sitting on the ground. Who doesn't like a bargain, after all? And a yard sale is also a secret peak into someone else's life.
However, having organized my fair share of yard sales in my time, I knew they were a lot of work-- hauling everything outside, pricing it, hanging around for hours, haggling-- for the possible return of a few hundred dollars. Not that that's insignificant, but is it worth the time and effort? As you know, if you've been following this blog, I've veered towards selling or consigning what I can to dealers and donating the rest.
But, as I've mentioned, selling or even donating art is a different kind of challenge. And between my husband's framed or matted photographs from his long career, my mother's huge acrylic paintings and silk screen prints, my own watercolors and collages, and my sister's decorative knitted and appliqued swatch samples, we had a lot of it. None of us was well-known; we felt stuck, and frankly, overwhelmed by the sheer quantity.
A NEW OPPORTUNITY
So, when our town, which has a plethora of artists, sponsored a citywide "YART Sale" in mid-August, we decided to take advantage of the opportunity. Other than letting our friends know about it, we wouldn't need to advertise, and the event provided the jump start we needed to move the art out the door.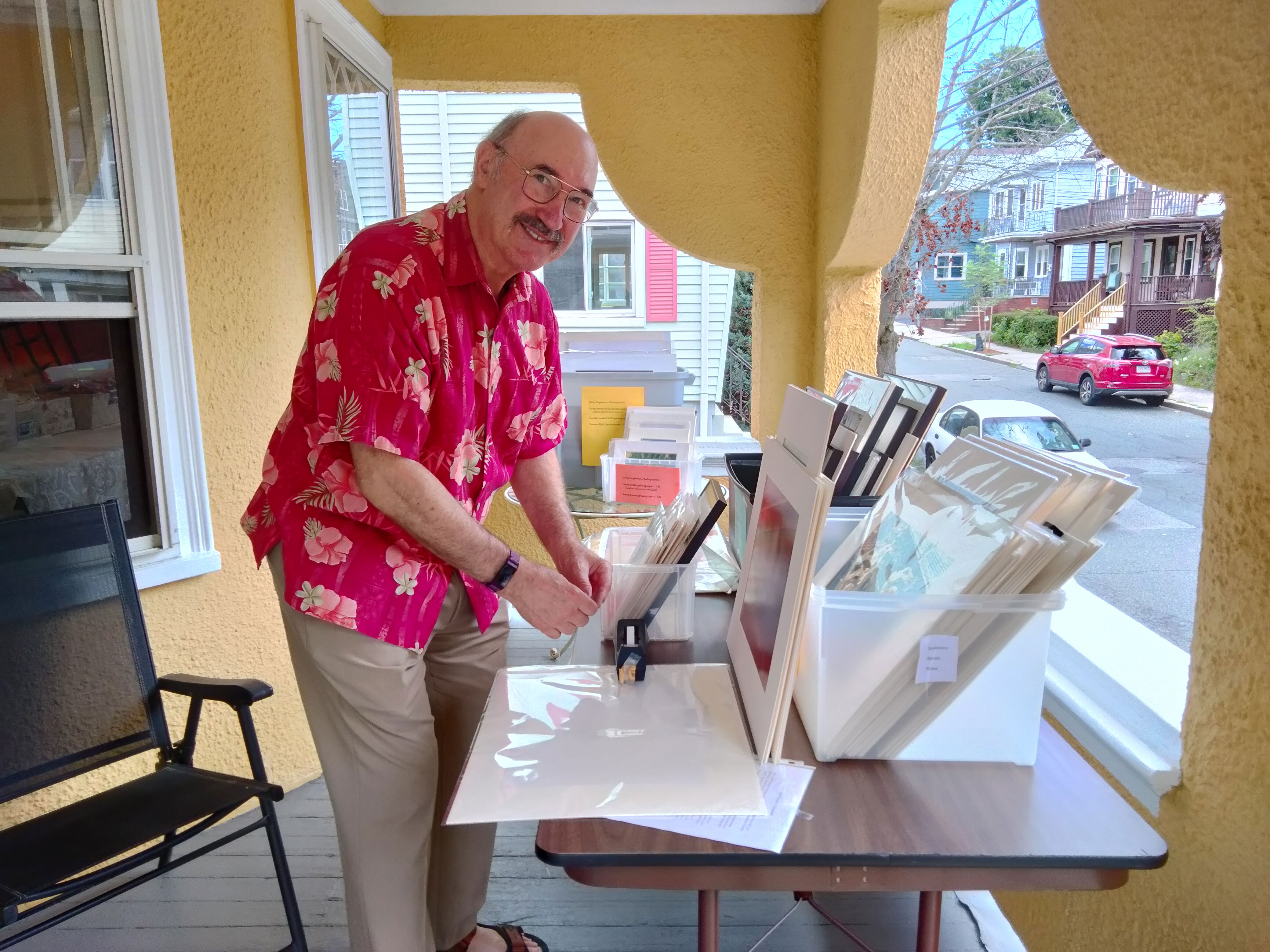 PREPARATION
We'd already taken the step of gathering most of our art in one place, knowing we had to deal with it sooner or later. I'd moved my mother's huge acrylic paintings and silk screen prints out of storage. John and I relocated our own unsold art from the basement to the first floor.
Both John and I had sold art previously through exhibits, but with our top goal this time being to sell (not just to show), we knew we had to price things well below what we would usually ask. For example, normally I would have sold a mid-sized framed watercolor for $195, but for the YART Sale, I priced these at $70 or $75, depending on the quality. I priced smaller matted watercolors, or larger unmatted ones between $20-$25. My mother's large acrylics went for $100 each, and her unframed silk screen prints for $20-$25.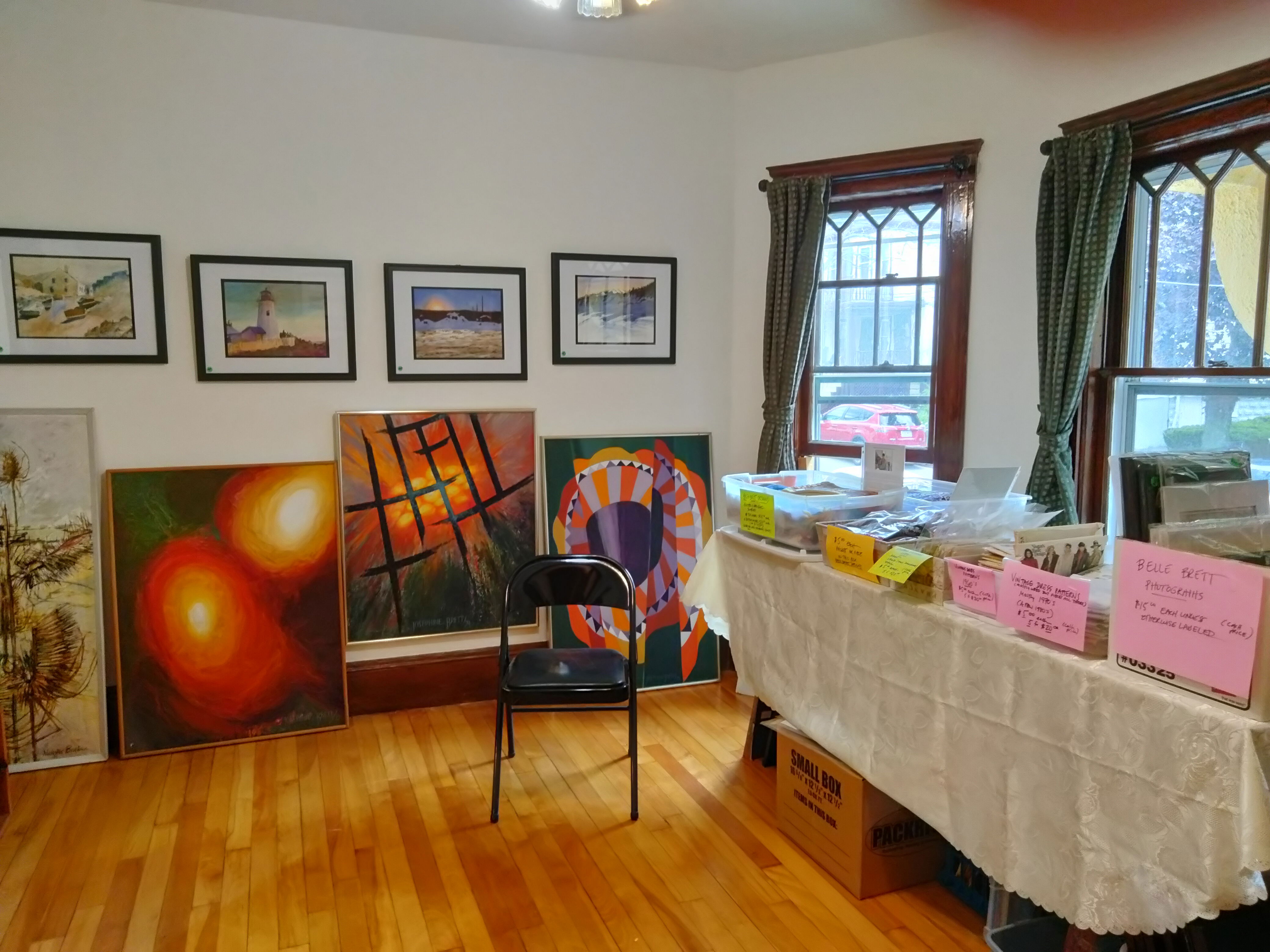 We each sent out email blasts to friends we thought would be interested in stopping by or hearing about it. We both posted on Facebook, and I changed my cover photo to the official YART Sale cover photo.
Prior to the event, I went to the bank to get some low denomination bills and located my Square attachment for my phone, testing it out beforehand with John's credit card. I set up a Venmo account, as I know it's now widely used instead of cash or credit cards. I already had a PayPal account.
We live in the far end of town, and we had no idea how much foot traffic we would get. But we asked several friends to help us throughout the day if it became busy or to provide company if it was not.
We cheated a bit on the general principle of holding our YART sale all outside. We put the lighter weight, unframed work on our porch, with the rest in a couple of rooms right inside the first floor. On the day of the event, we brought out the tables, set out the boxes with our matted work, hung signs, and blew up a few balloons, which we attached to the railing of the steps leading up to the porch.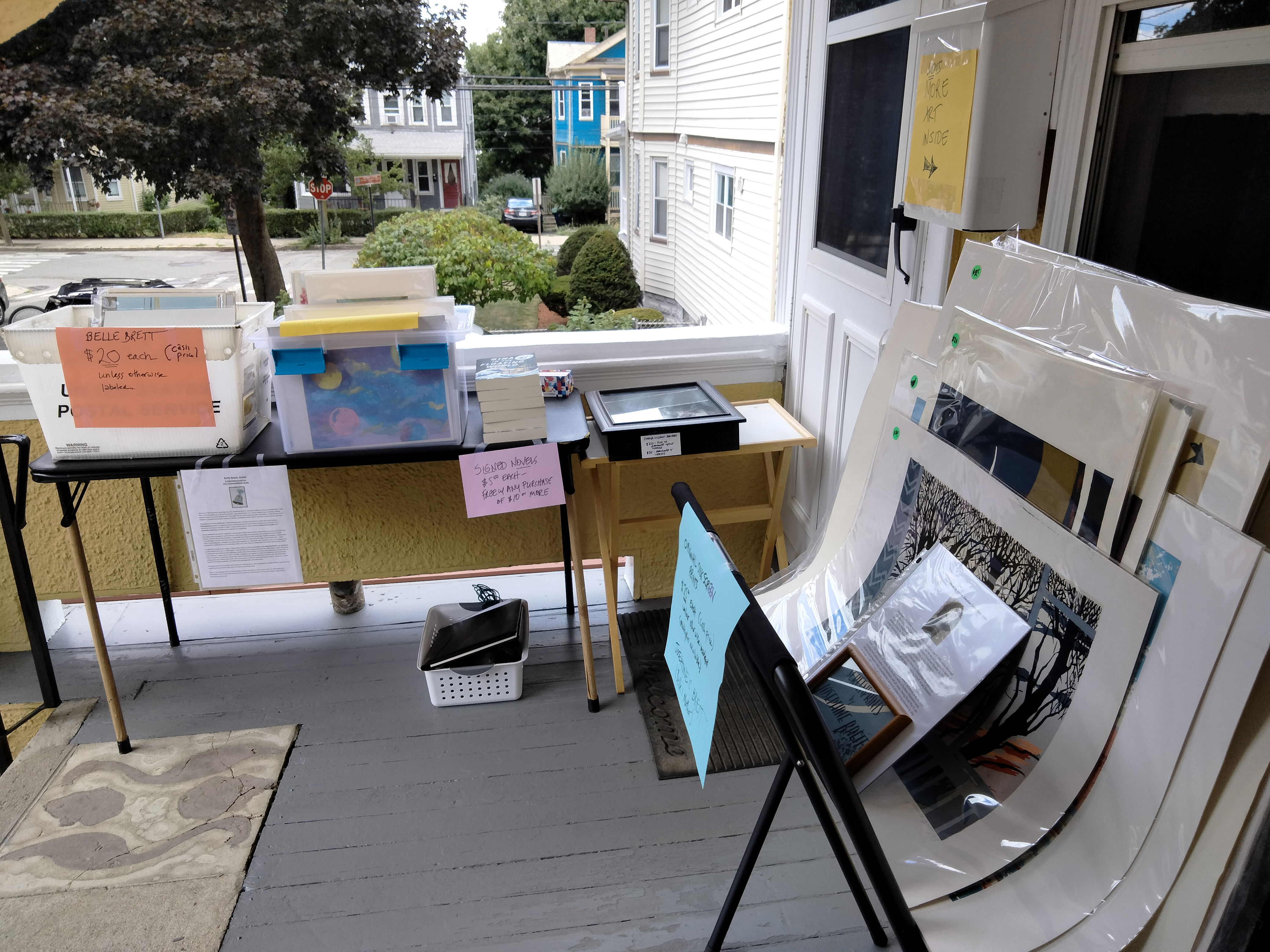 We set our expectations low.
THE ACTUAL EVENT AND AFTERMATH
We were blessed with a perfect day weatherwise.
To our surprise, we had a steady stream of foot traffic all day, not only from friends, but from young neighbors looking for something decorative for their walls.
Did we sell everything, or make out like bandits? No. But we did far exceed our expectations, and we felt enormous satisfaction at how our art was received. The young people's response was especially delightful. They were polite and enthusiastic and took time to look at our work. And they bought things. One young woman took a photo of one of my mother's paintings, an abstract in 1970s colors, texted it to her roommates, and after a back-and-forth discussion, purchased it.
As a result of my email blast, a non-local friend reached out and bought over a dozen works to use for an auction for a non-profit run by her daughter in the town where I grew up. She also bought a couple of pieces for herself. I had donated two works for this year's auction, including a painting of my mother's that highlighted a street in that town. The painting netted the organization several hundred dollars.
We gave each of our four "helpers" a piece of artwork of their choice as a reward, and they each rewarded us by buying something in addition!
FINAL ASSESSMENT AND LEARNINGS
So, was it worth it? It was a lot of work, but perhaps not that much more than preparing several loads of items for consignment or donation. An added bonus was the opportunity to connect with friends and neighbors. We made decent money and moved some items out—our primary goal. Importantly, we started a process that we had been avoiding. This coming week, I will be hanging the remainder of my framed watercolors and collages at my gym, priced to sell. I've done well in the past with much higher prices. We'll see what happens.
Others have written about how to manage a general yard sale, so I will just offer a few thoughts.
Advertise appropriately. Piggybacking on a town or organizational event certainly had its advantages. People knew where to go and were primed for a day's outing. But we did our share of advertising as well through email and Facebook.
Be clear on your goal. To downsize or to make money? Price accordingly. If your initial prices seem too high, lower them or be ready to bargain. We did not have to do the latter because our prices were already low. But we did offer a discount to people who bought multiple items.
Prep your items. We cleaned the glass on our framed pictures. We arranged things in an attractive, accessible way. We made signs announcing items and prices.
Have paper/bags/bubble wrap/scissors/tape on hand, especially for more fragile items.
Get help and reward your helpers. John and I handled all the actual sales, but since we were spread out over two spaces, we always had someone in each space. Plus, having friends there made the day more fun.
Be prepared to take a variety of payments. We made it clear we preferred cash, but to make a sale, we sometimes had to accept other payment types. I fumbled the first time I tried to use Venmo, but my young customer was all too happy to help.
Acknowledge your successes, even if you are left with many items at the end of the day. What went well? What were some highlights? What were some surprises? Did you sell that ugly vase that you'd been hanging onto because Aunt Lily gave it to you as a wedding present years ago?
Have a plan B for the remaining stuff. Leave on the street for the next trash day in hopes that passers-by will pick it over? (This works well in urban areas.) Donate to your favorite organization? Put items on your local freecycle site? Try to sell them on Facebook Marketplace? In the case of our art, it wasn't that easy, but the YART Sale did force the conversation.
We are on our way.