In my previous blog post, I discussed the decisions I made about how to preserve the various memorabilia I have collected over more than 50 years of travel in a more compact form via scrapbooking. In this post, I will share some of the pages I've created so far and what went into designing these. (I'm presenting these in the order I made them, not the order of the trips.)
Hawaii 1990
The first scrapbook page I made was of my husband's and my official honeymoon to Hawaii in 1990. We visited three different islands: Oahu, Kauai, and the Big Island. Most of the memorabilia I'd saved from this trip pertained to the five hotels we stayed at, each of which was interesting in its own way. I decided to include some of the background information on several of these. I added a few images of key sites and some small maps as well as decorative touches. I chose a green background to represent the lushness of plant life on the islands.
France 1982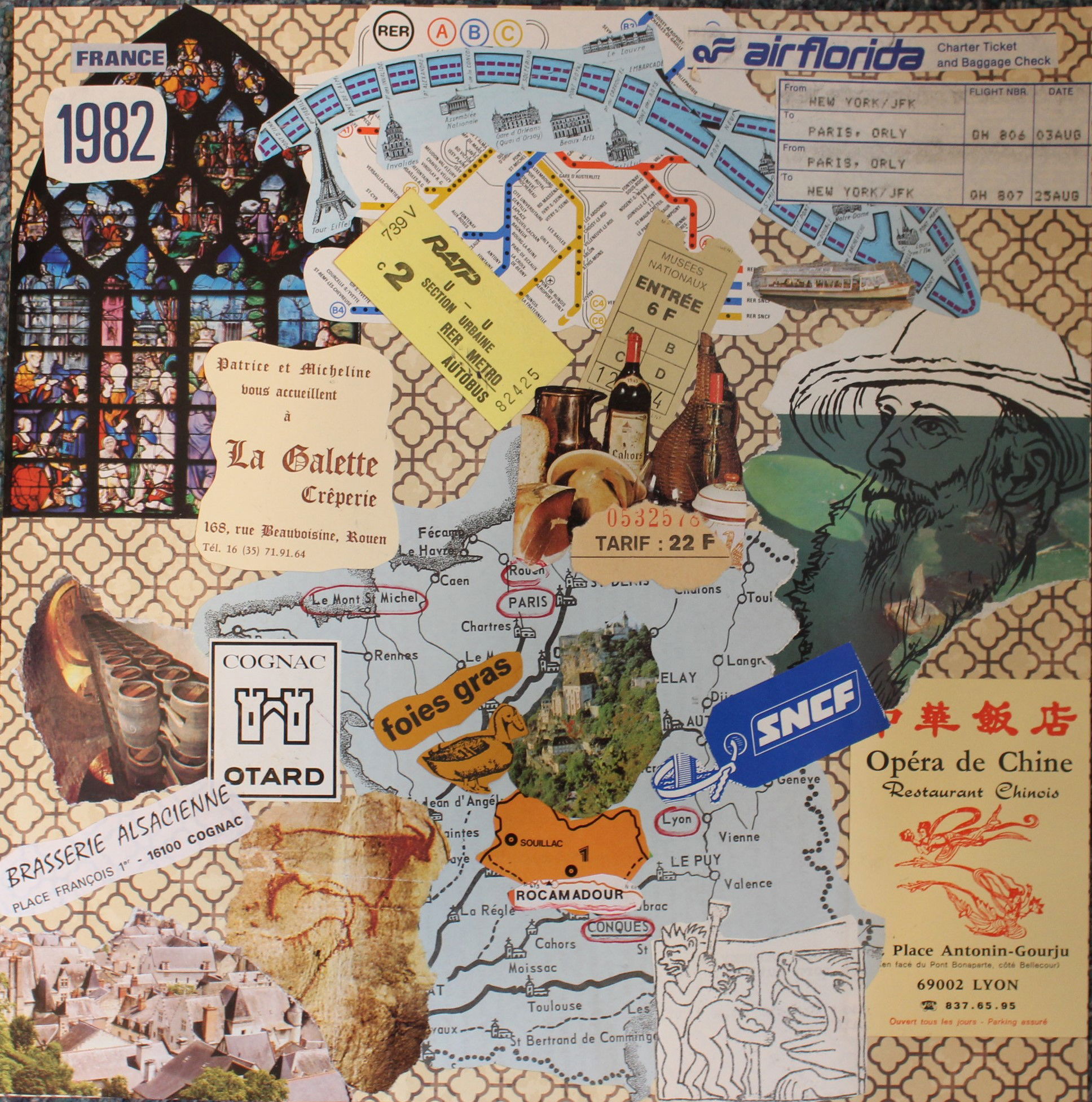 The first real vacation my then boyfriend (later husband) and I took together was a three-week trip all around France, at least two of those weeks with another couple. We had no reservations except for our first night, but rather, as we often did in those days, found accommodations wherever it was we ended up. I had saved brochures from some of the key areas we visited, such as Rouen Cathedral, Giverny (Monet's home and garden), the cave paintings in the Dordogne region, and the castle in Cognac. Of course, a trip to France must acknowledge food and wine, and fortunately, I had souvenirs from restaurants. My husband and I spent our last few days alone in Paris, including a boat trip on the Seine. The Air Florida coupon reminds me of the challenges we had surrounding the charter plane we took to leave France.
Pacific Northwest 1988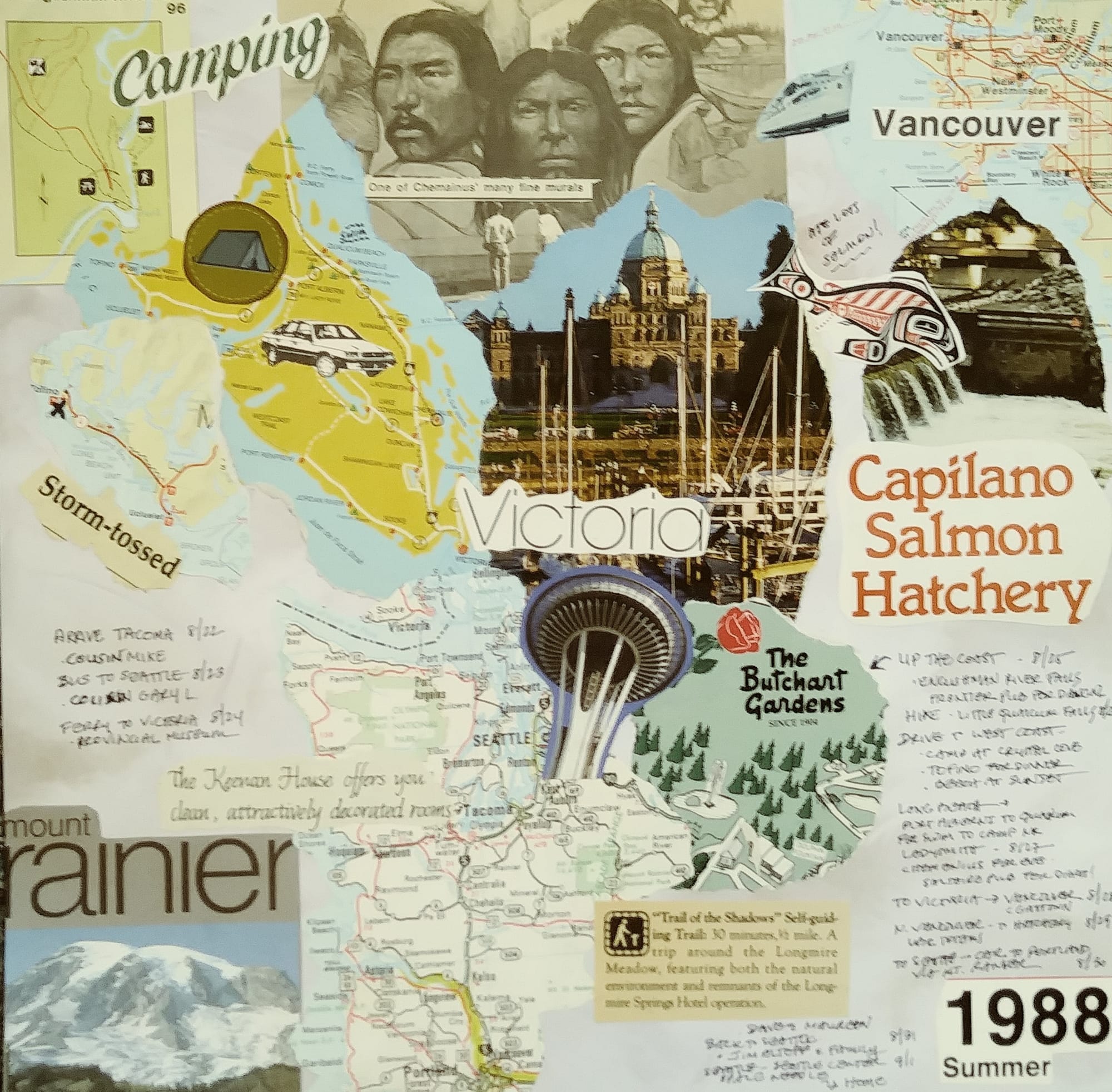 This trip encompassed both Canada and the US. After our arrival in Tacoma, WA, we visited with two sets of cousins before taking the ferry to Victoria on Vancouver Island in Canada, where we rented a car to travel around the island for a few days. We hopped over to the city of Vancouver for a short stay (without a car) and then returned to the US, where we rented another car so that we could see some of the spectacular scenery in Washington and Oregon. It was particularly important to me to visit Mount Rainier, which my father had climbed as a young man. For this page, the maps seemed especially important. Because the trip was somewhat convoluted, I decided to include our general itinerary in handwritten text.
Finland 1972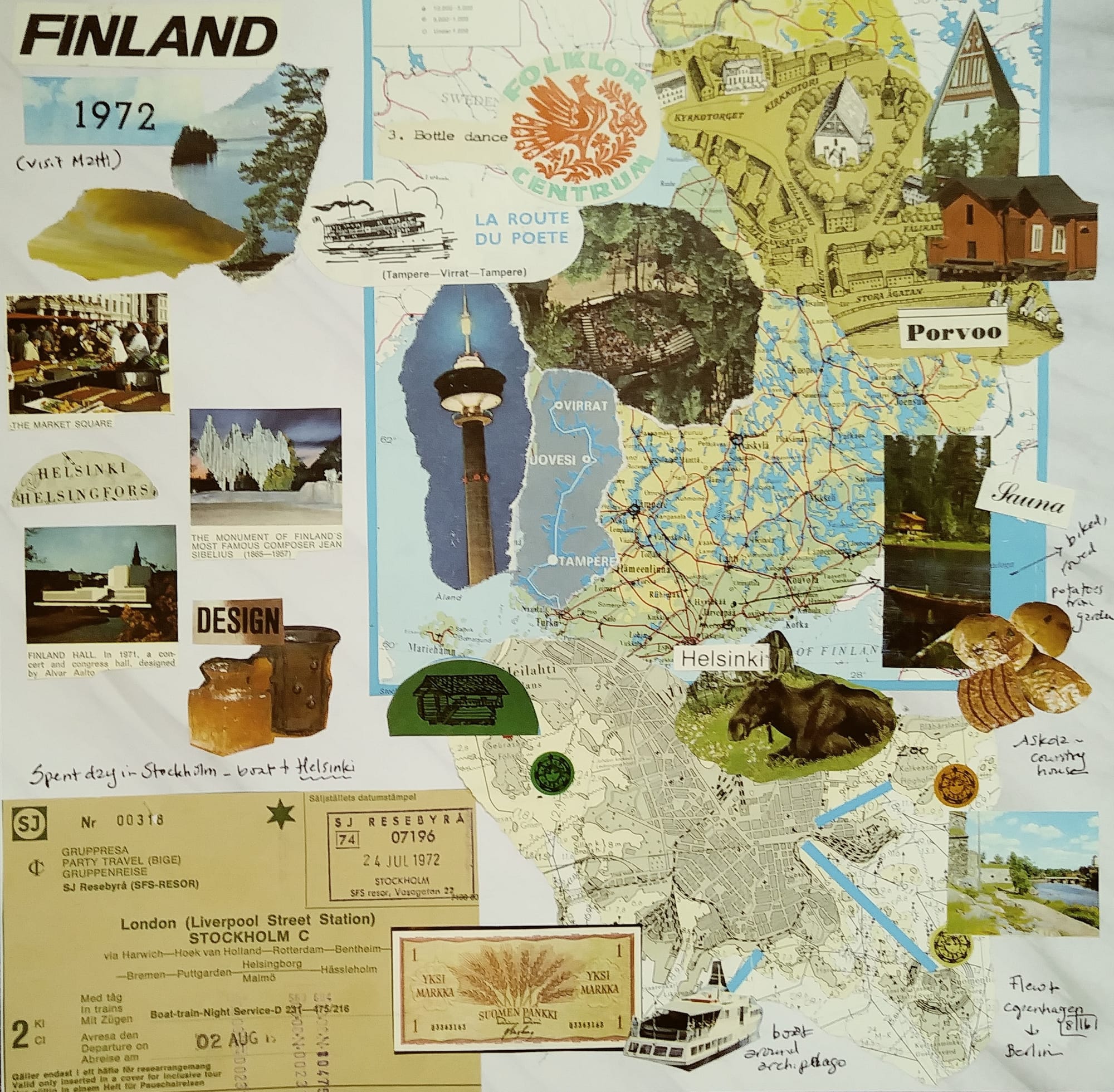 One of my early trips as a young adult was to Finland, a country Americans don't often visit. But I had a FInnish ex-boyfriend from a few years earlier, who'd extended an invitation, and I was already in Europe. I will always remember the three-day adventure getting there from London via two overnight ferries and a train. The third night on the ferry to Helsinki I was so tired I was able to sleep in an open lounge despite blaring rock music. My notes from this trip were hard to read, but the trip wasn't all that complicated, as I spent quite a bit of time in Helsinki and took just a short trip on my own to a region north of the city. Thus, I chose to give prominence to the map of Helsinki with reminders of some of the places I saw while there (some by myself while my friend worked and some with him). One of the highlights was a true Finnish experience—a sauna followed by a jump in a cold lake. Afterwards we dug potatoes from the garden, accompanied by sausage and beer. (I found the images of potatoes and sausage in a supermarket advertisement. It's okay to cheat a little and use some other source for appropriate images.) I added a small amount of handwritten text for explanation but did not include a calendar of the itinerary, as it was less important.
Hawaii 2015 (my birthday)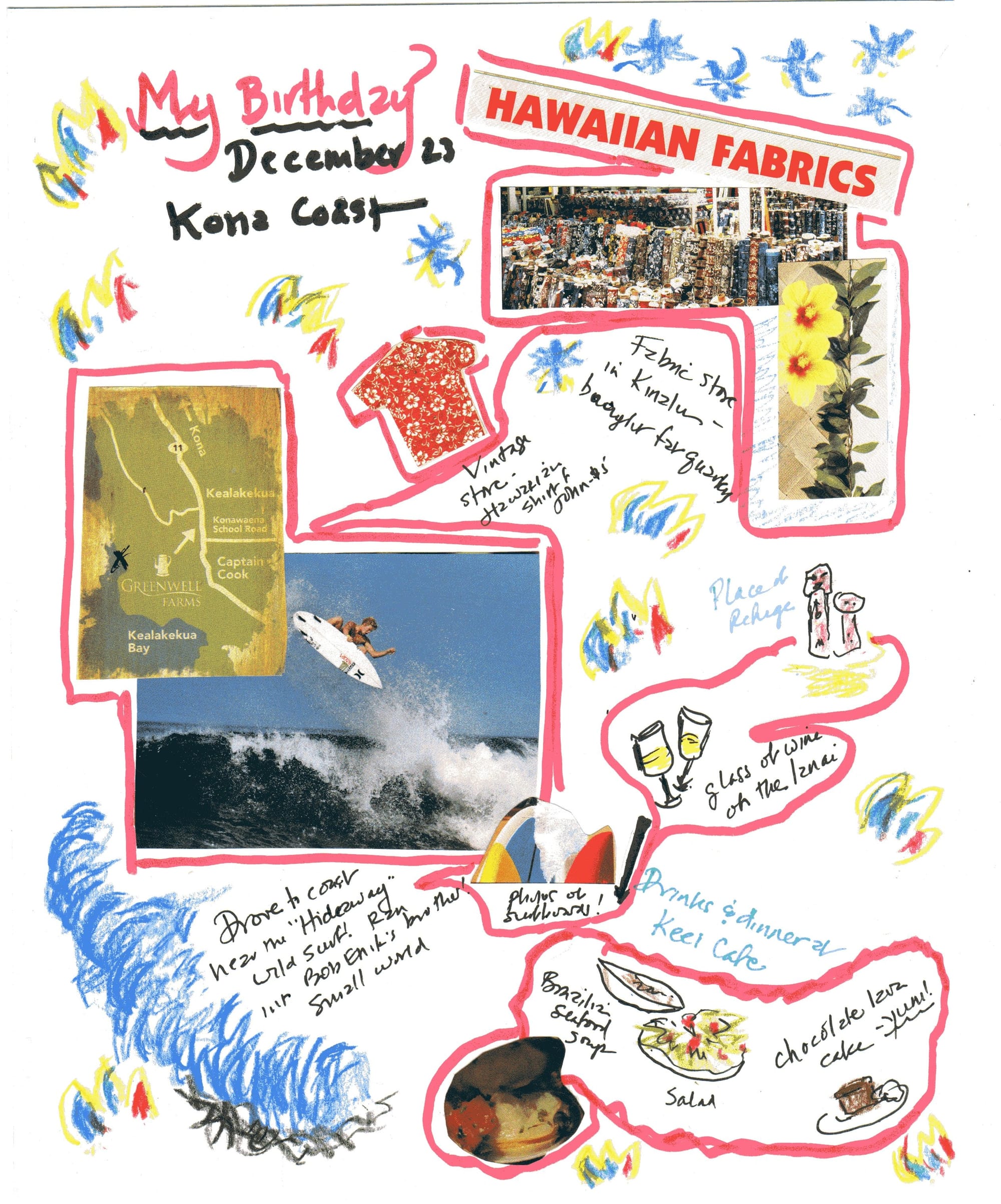 I include this final image to show that there are many ways to create a scrapbook page, whether about your travel or any other event in your life. I made this one about my birthday on the Big Island several years ago. This one doesn't take advantage of any imagery that I specifically saved from that trip (and thus, is more about preserving memories than downsizing) and has more of a casual, journal feel to it.
As I've mentioned, my goal was to have a good time capturing my trips without excessive agonizing over the details. But I will say that the top four pages took longer to create than I expected. As with the original experience, it's as much about the journey itself as the destination (in this case, the completed page). So, why rush it?