During this time of so much loss, it feels especially important to honor those who have died.
One of the ways I've been able to let go of (or reduce) material goods and drawers full of papers associated with my deceased loved ones is by creating memory collages. This year I made three in time to commemorate the anniversaries of their respective deaths.
Although I make and have sold collages as art, the wonderful thing about collage is that you don't have to be an artist to make a piece that is satisfying. You don't need fancy supplies either—just a glue stick and a background on which to arrange your images, maybe some markers. You can create pages designed for a scrapbook or stand-alone collages that are suitable for framing.
For my memory collages, I use canvas covered board, available from an arts and crafts store. Rather than glue, I apply acrylic matte medium, which not only acts as an adhesive but also provides a sealant that preserves your work over time. But glue sticks work just fine.
I have taken several different approaches to content.
USING ALL ORIGINALS: My mother used to place various scraps of paper from her life into her books, acting as bookmarks of sorts. These included lists, receipts, articles, notifications, sketches (she was an artist), recipes, drafts of letters, among other things, and inexplicably a panel from the Sunday comics. Before I put her books on my own shelves or gave them away, I removed these scraps and filed them, unable to part with that quirky bit of her behavior. When I realized that what she kept said a lot about who she was and what was important to her over a 30-year period, spanning the two continents where she lived, I felt inspired to make a collage from them. The articles, in particular, reflected a change in her interests and concerns as she and my father headed into their 80s.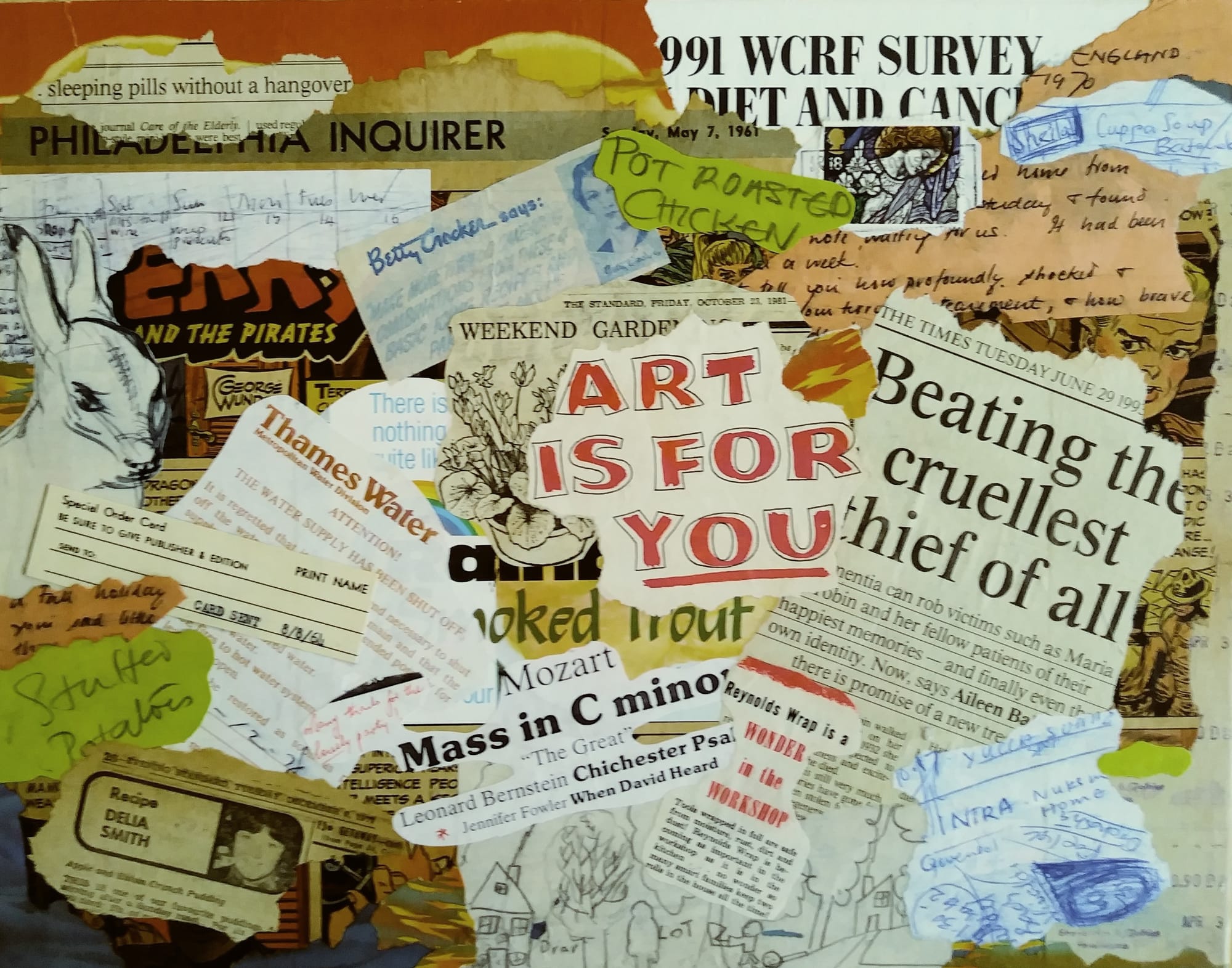 My particular approach in collage is to tear some pieces and cut others. In this case, I didn't worry about maintaining the integrity of any given piece. It was the essence that counted. The result was "My Mother's Bookmarks: 1960s to 1990s." I used the comic ("Terry and the Pirates") to highlight the city where she lived for 17 years (Philadelphia) and to serve as a metaphor for change as we age (the idea of pirates stealing something of value). The letter draft was particularly poignant. It was a letter of condolence to a former neighbor whose husband had committed suicide.
USING SCANS OF ORIGINALS: The second one I produced was in memory of my sister, who died of cancer at age 58. She was a fashion designer, and I decided to focus on that particular aspect of her life as it was a consistent interest from a young age. Although I had a number of her fashion sketches over the years (starting at age 6), I did not want to use the originals, which would have smeared. Instead, I scanned copies of these sketches as jpegs so that I could also control the size of the images I printed. For the background, I used both black and white sketches and a copy of one of her costing sheets from the business she ran. Unlike in my mother's piece, I cut all of these images rather than tearing them. I arranged the sketches around the page in a clockwise fashion, beginning with the earliest. Of course, I was able to choose only a tiny fraction of my sister's prolific output, but I hope I managed to epitomize some of her aesthetic. I call this piece "A Half Century of Designing Fashions."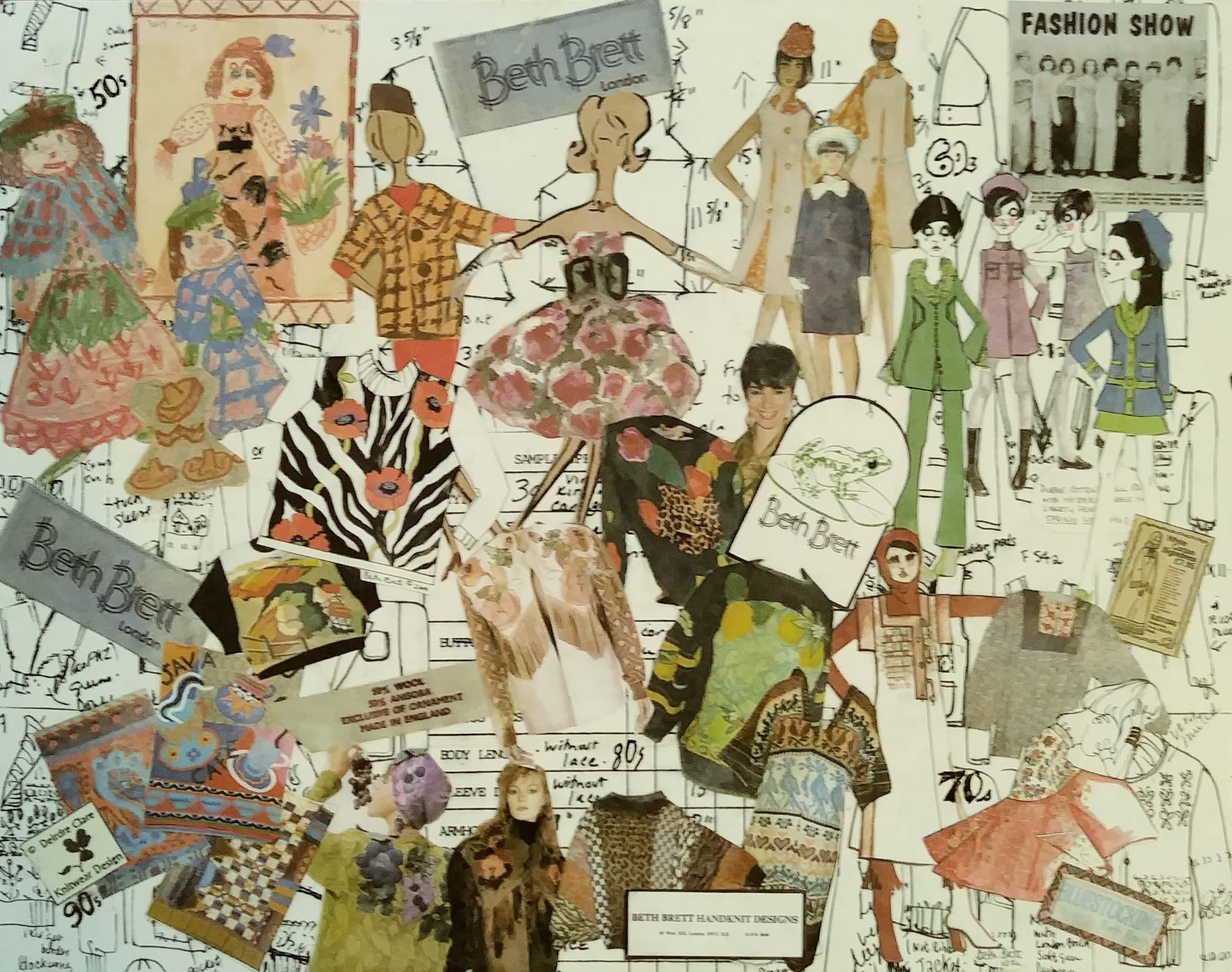 COMBINING SCANS WITH OTHER IMAGERY: The collage for my father spans more years than my mother's and a more diverse range of interests and experiences than my sister's. I scanned several photos (my father climbing Mt. Rainier in his 20s, a family shot, his retirement) and documents (his Ph.D certificate). Mostly, I found appropriate images that felt representative of him—books , letter writing, wine (and martinis), music, math and science. I also downloaded images of specific book covers as jpegs and took photos of vinyl records he owned. The background of his collage is a piece of sheet music from Mozart, his favorite composer, that I played as a child, so it was meaningful on two levels. The map of the US and Europe allowed me to indicate places that were central to his life with appropriate images that symbolized each of those localities. My father enjoyed traveling, which his work also required him to do, and I wanted it to be a key theme. The name of this collage is "My Father's World."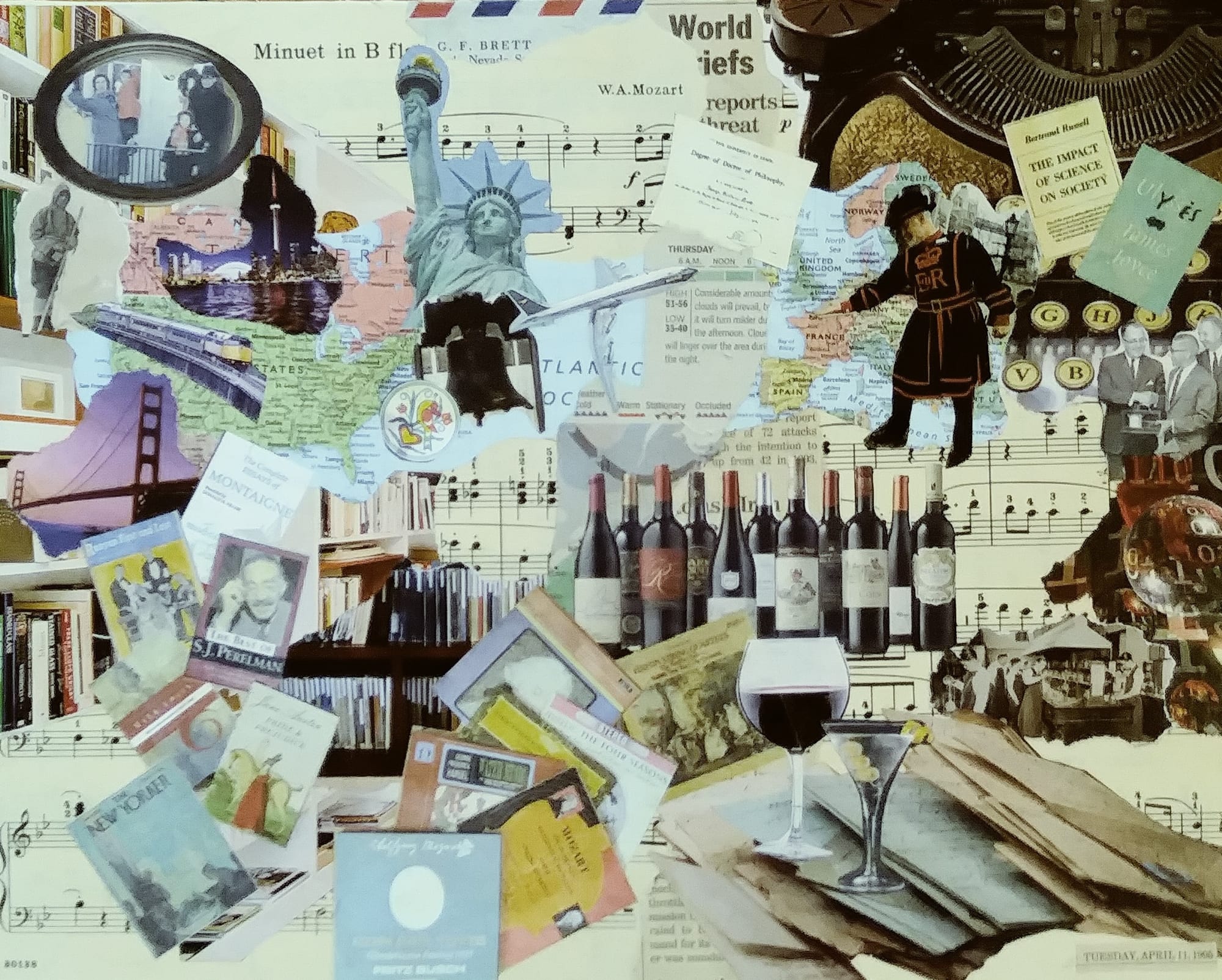 Making these collages was cathartic for me. I felt invested in capturing my family members as I knew them, in telling their stories through images, and in creating something that would be visually challenging and evocative but also pleasing. Importantly, for me as the downsizer, I feel more ready to let go of some of the actual items that served as sources of inspiration.