I'm always looking for inspiration on practical ways to preserve items with personal meaning. How can you keep those things that hold memories without squirreling them away in boxes you never open? During a recent stay with an old friend who had moved to Albuquerque, NM, from her loft in the Northeast, I was delighted to find a few openly visual solutions that both she and her visitors can enjoy. Each prompts conversation.
My friend's new house, a modest "casita" in the city, boasts a large unheated "shed" where may a person would be tempted to hoard their unsorted belongings. Rather, other than a few boxes of her own, this shed serves as temporary storage for other people's stuff. Before her move, she culled through her own possessions,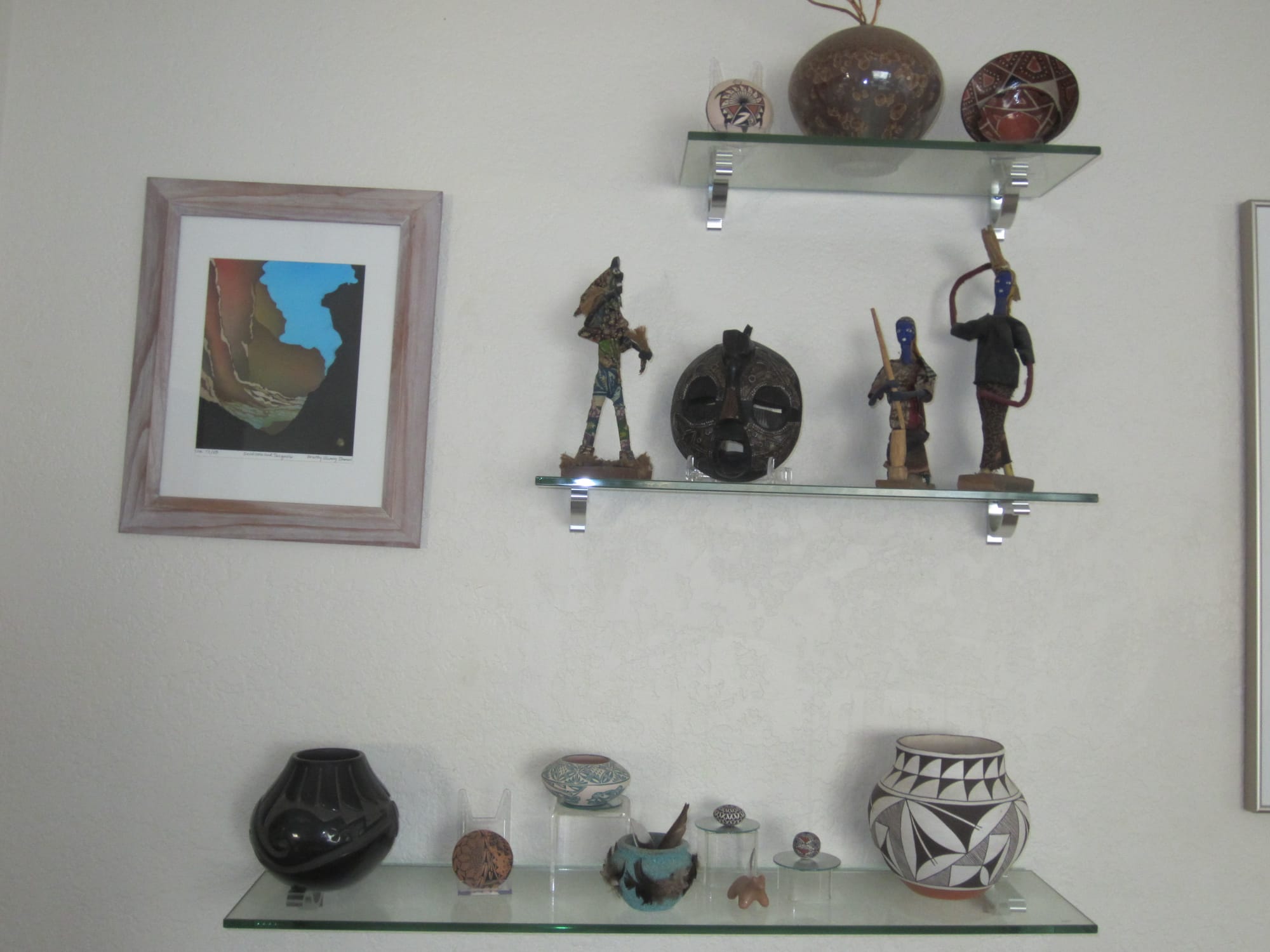 The house with its soft, Southwestern colors, has a fair amount of wall space, allowing for displays of various kinds. The first room you enter is the living room. In addition to hanging paintings and prints, my friend has installed some glass shelves to house her collection of both Southwestern pots (she herself is a potter) and craft items from other trips, including several from Ghana.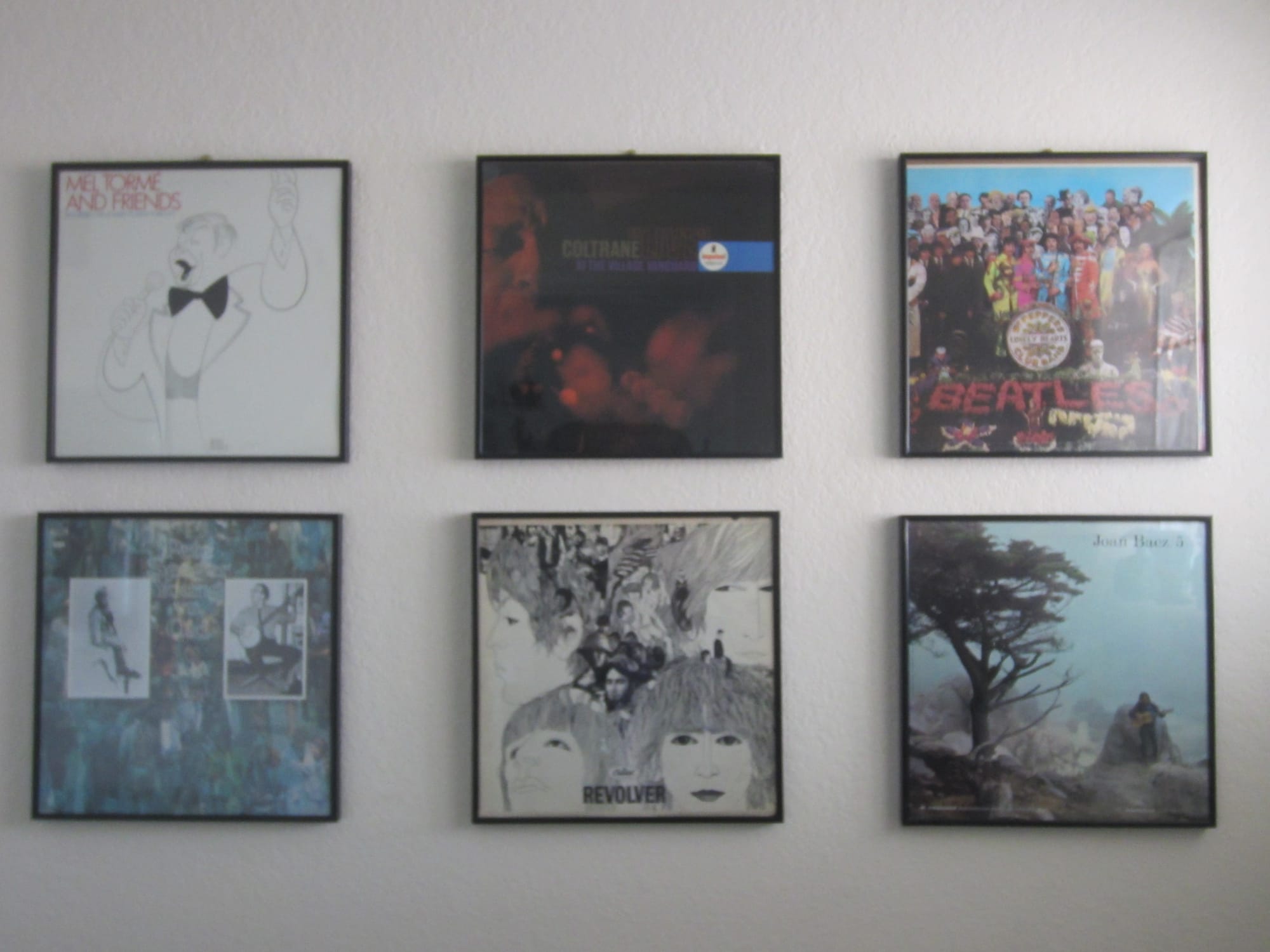 The dining room, which she created from a closed in porch, has one wall with six framed vinyl record covers. (Inexpensive frames for records are easy to find, in stores such as Michaels or online.) My friend explained that these represented her favorite records, each associated with its own memories. She sold the remainder of her collection prior to her move. In a window, she displays her mother's collection of green glass, with their interesting silhouettes and beautiful color (not rendered in the accompanying photo.)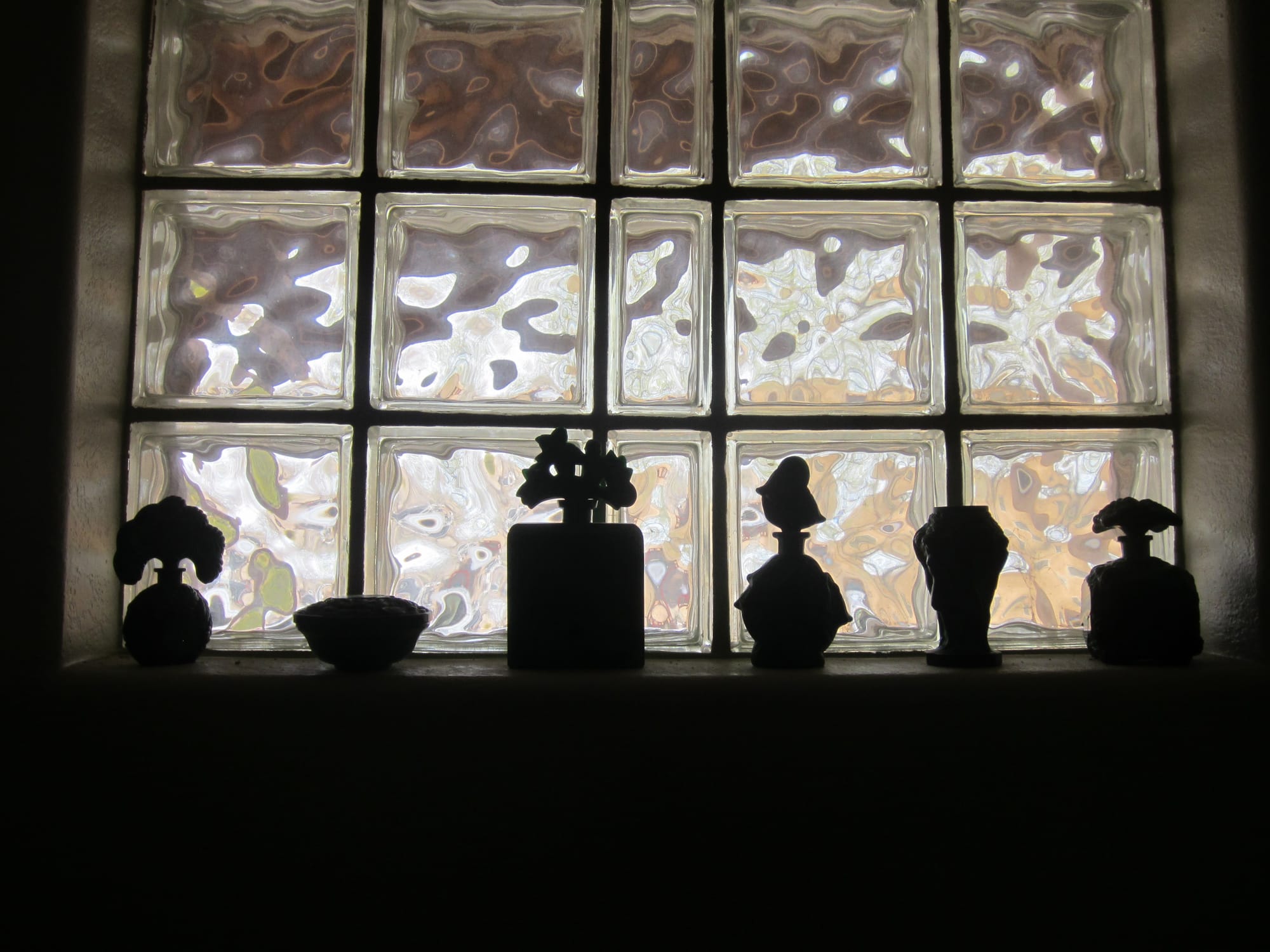 Straight ahead in a hallway next to the bathroom is one her most ingenious forms of display. In an old printer's tray (where the printer stored the typeface blocks), found at a flea market, are various small objects with their own history. These include the tag from a beloved dog she owned, old broaches she no longer wears, and tiny pieces of art, among others. There are still spaces for items she might want to add.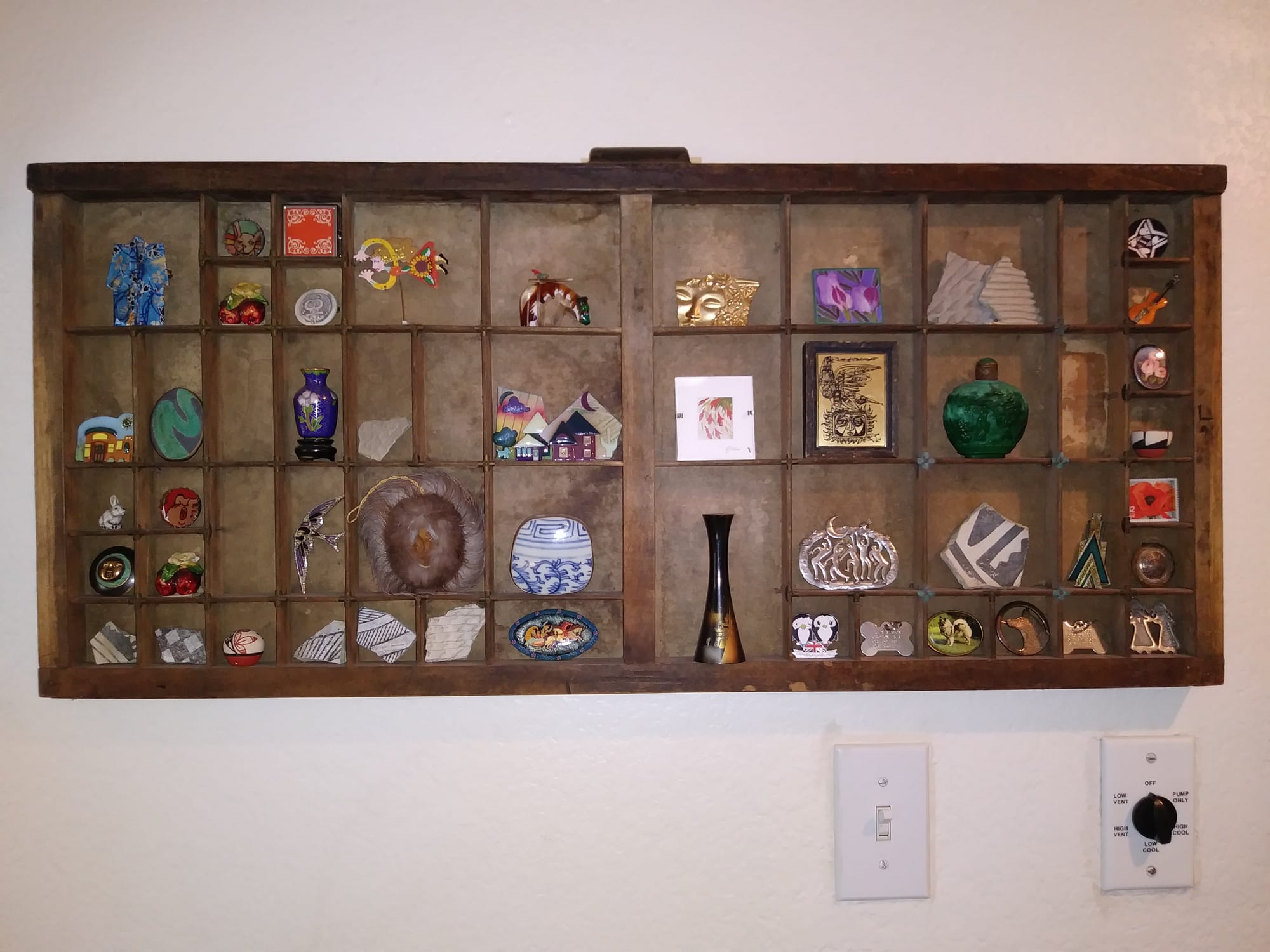 Finally, in the bathroom is a needlework frame with pairs of earrings that can be retrieved for wear or simply left to enjoy. I am guessing that many of these earrings have their own associations with them.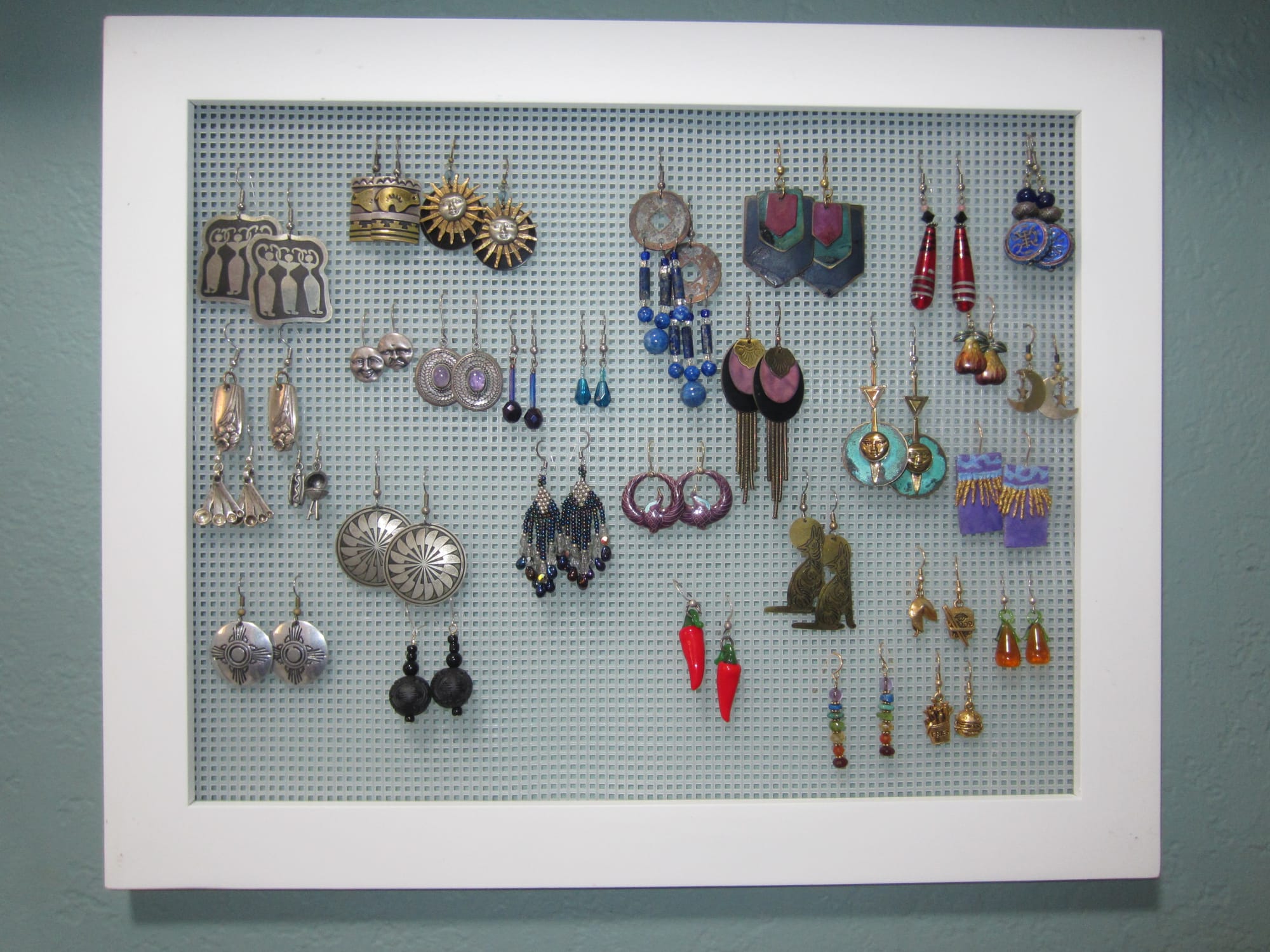 Of course, the hard part of the approach my friend has taken is the curating of one's possessions, to choose those that will elicit both visual and visceral pleasure, without making your home feel like a museum. But at least, I now have another avenue to express my sentimentality.
What are some of the ways you've preserved memories?