In this throwaway age, it's easier to toss anything paper into the recycling can. Maybe I'm overly obsessed with finding homes for my paper-based treasures, but I know I feel better about parting with pieces of my life when I think they will receive some love. Of course, this takes some effort, but my assumption is that if you follow my blog, you share some of my sensibilities about this process and are willing to go that extra mile.
What I've decided, though, is that I do NOT want the responsibilities of starting another business selling these items, such as on EBay. Are some of value? Possibly, though it seems that values for collectables have declined over the last decade. As a downsizer, even a slow one, I'm always trading off time versus money, and I've decided unless I can get at least $100 for an item or group of items, it's not worth it for me to pursue people willing to purchase something or create the structures and follow through for sales. If you have different priorities, good for you and best wishes. Maybe I can sell you some of my treasures, cheap, to help you out.
In this post, I'll summarize some approaches to giving away paper that I've already shared and provide a few more ideas, based on my own experiences or ideas given to me by others.
Letters: I've already written a post on returning letters to senders rather than throwing them out. Scan a few, make some notes, and send them back to their origins. Time consuming, but rewarding, especially when you re-establish connections with old friends. Plus, people seem to appreciate a chance to revisit their earlier selves. Alas, others aren't usually able to return the favor.
Greeting cards: Several years ago, I started donating the fronts of old greeting cards (if they didn't have writing on the back) to a local nursing home for residents to recycle into new cards or art projects. I keep a few of interest and may consider using some in my own artwork or use them for a get-out-the-vote postcard project in the future!
Materials from school and college (see my post on School Daze): I was surprised to find that my college was eager to take my collection of mimeographed items left in my mailbox my first year, not to mention all the issues of the college newspaper. At my last reunion, I brought the college archives a large box of all these extra-curricular materials. More recently, I sent them copies of syllabi from my classes (from the era before computer records.) My secondary school wasn't interested in the newspapers but couldn't wait to get their hands on the curricular materials, including papers I'd written. Who knew my 8th grade music paper on the history of the clef and the staff or my meticulous ninth grade biology notes would continue to have a life?
My mother was a school child in England 100 years ago. From her, I have hand-painted certificates for good conduct, dating from the "Great War" (WWI), biology and geography notebooks with her meticulous handwriting and beautiful sketches (rescued from her trashcan before her move from the USA back to England), a few letters from age 12, and a diary of her sister's. I did a post-graduate teacher training program in England and saved my practice teaching reports along with some of the materials I developed for those experiences. I've just approached a museum in London that specializes in childhood in hopes they are interested. There are museums for every topic imaginable.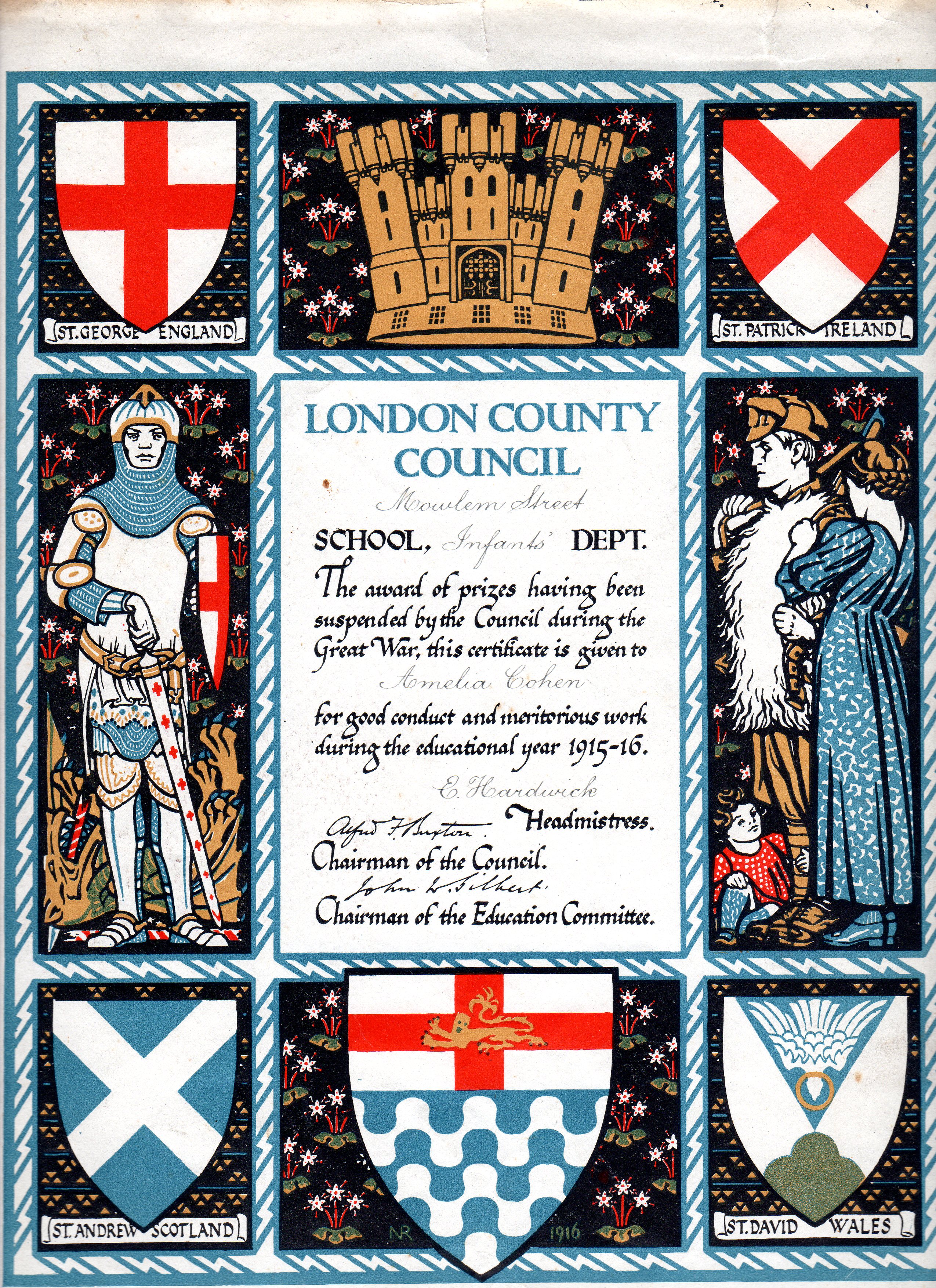 Magazines: Several months ago I off-loaded my entire collection of early Ms magazines (124 issues!) to a new bookstore with a feminist slant. Although the owner had yet to open her brick and mortar store, she was conducting on-line sales and was thrilled to have these gems reflecting an important movement in our society. She even picked them up in person. Could I have sold these myself? Perhaps, but as I've stated earlier, I have no interest in starting another business. If I find that I have a rare gem in my collection of other magazines (often from seminal events in our history), I may change my mind. I also gave away (via a local donation site) to a history buff several yellowing newspapers from 1963 following the assassination of JFK.
Work souvenirs: My mother's lecture notes to prospective art teachers and my samples of children's work and class notes from my year teaching and London are also targeted for the museum on childhood. With some help from a family friend years earlier and some additional sleuthing, I found that my father's old company (from which he retired in 1968) had disbanded, reconstituted itself, and was interested in his work archives. My London-based sister, who was a knitwear designer, kept careful records of her business, and the iconic Victoria and Albert Museum was thrilled to take and catalog all her records (sketches, costings, order sheets, etc.), thanks to efforts from her daughter and husband. Honoring my family members in these ways feels especially important.
Paper sewing patterns: All the women in my family sewed, especially during the 1960s. I have some great vintage patterns. And for these I'll seek a buyer!
When you've lived a long life (or have items from previous generations) and have been a saver, you are bound to have some paper items of interest to someone. But when all else fails, you can still keep your favorites and preserve others in digital form. But, since I have your attention, anyone want a Life magazine from 1969 dedicated to the manned moon landing? Newspapers and magazines celebrating the bi-centennial in 1976?