Last May, I wrote a post called, "A Year to Clear," in which I'd announced our own personal deadline for downsizing as May, 2023. At the time, our plans were vague, but we were considering a big move from our house of 27 years.
In the following months, our plans crystallized. We decided that in the short-term, we would live in already furnished places (a combination of Airbnbs and our own vacation condo (usually rented out to others) in a nearby state with no storage space. In the long run, we will live in the equivalent of a two-bedroom apartment that we will need to furnish.
Many of you who are following the path of slow downsizing know that at some point you, too, will occupy fewer rooms and like us, will be giving up attics, basements, and garages. But until the reality of a move date looms, you may be avoiding the hard decisions.
I've developed a strategy I call "earmarking" that allows me to consider my possessions in terms of their role in my imagined, future life and to designate the "keepers," while not necessarily eliminating all else until I need to. These earmarks consist not only of the things that bring me joy but also those that enhance my ability to live my life the way I want to.
As we get closer to our move date, I find myself paying more attention to what I use regularly, from the gadgets, dishes, and pots in my kitchen, to the clothes in my closet, to the objects in my bathroom drawer, to the stationery and sewing supplies in my cupboard.
One way I've been able to make these choices is to remind myself of how I feel when we rent an Airbnb or use a timeshare. Kitchens there are typically minimally stocked but with an eye to what most people might want. When there, I ask myself, what am I missing most?
Here are some examples of those missed items: my small Cuisenart, my Good Grips can opener, my cheese grater with the handle, my tool that opens jars, my salad spinner, more than one lightweight cutting board, and good sized mugs and bowls. What I don't miss (that I know I have at home): muffin tins and almost anything else to do with baking cookies, cakes, and pies. As much as I enjoy sweets, I find I don't make them. (I already gave away the rolling pin).
I've temporarily moved these unmissed items to another space (in another room, on another floor), along with large serving platters for parties I'm no longer going to hold, with the goal of giving them away nearer to the time of the move. If I find I need them, they are still there, and I can reassign them. Mostly, I don't think about them.
As downsizers, we've all been cautioned about our tendency to hang on to things "in case" we need them. Earmarks bring us back to the basics. How often do you need to use something for it to qualify as an earmark? Once a day? Once a week? Once a month? Once a year (like holiday decorations)?
The once a day or even once week items are no-brainers. These are earmarks. I struggle with the once-a-month items. For example, I have a tagine I use only once a month. It was a gift from family members, and I love the recipes I do make in it. But it's a big, heavy item. Can I make these same recipes in a different pot, like my Le Creuset Dutch oven, which is an earmark?
Consider also the items that you possess in duplicate, triplicate, or even more, like my sets of salad servers below--all lovely, all used at one time or another--but do I honestly need four sets?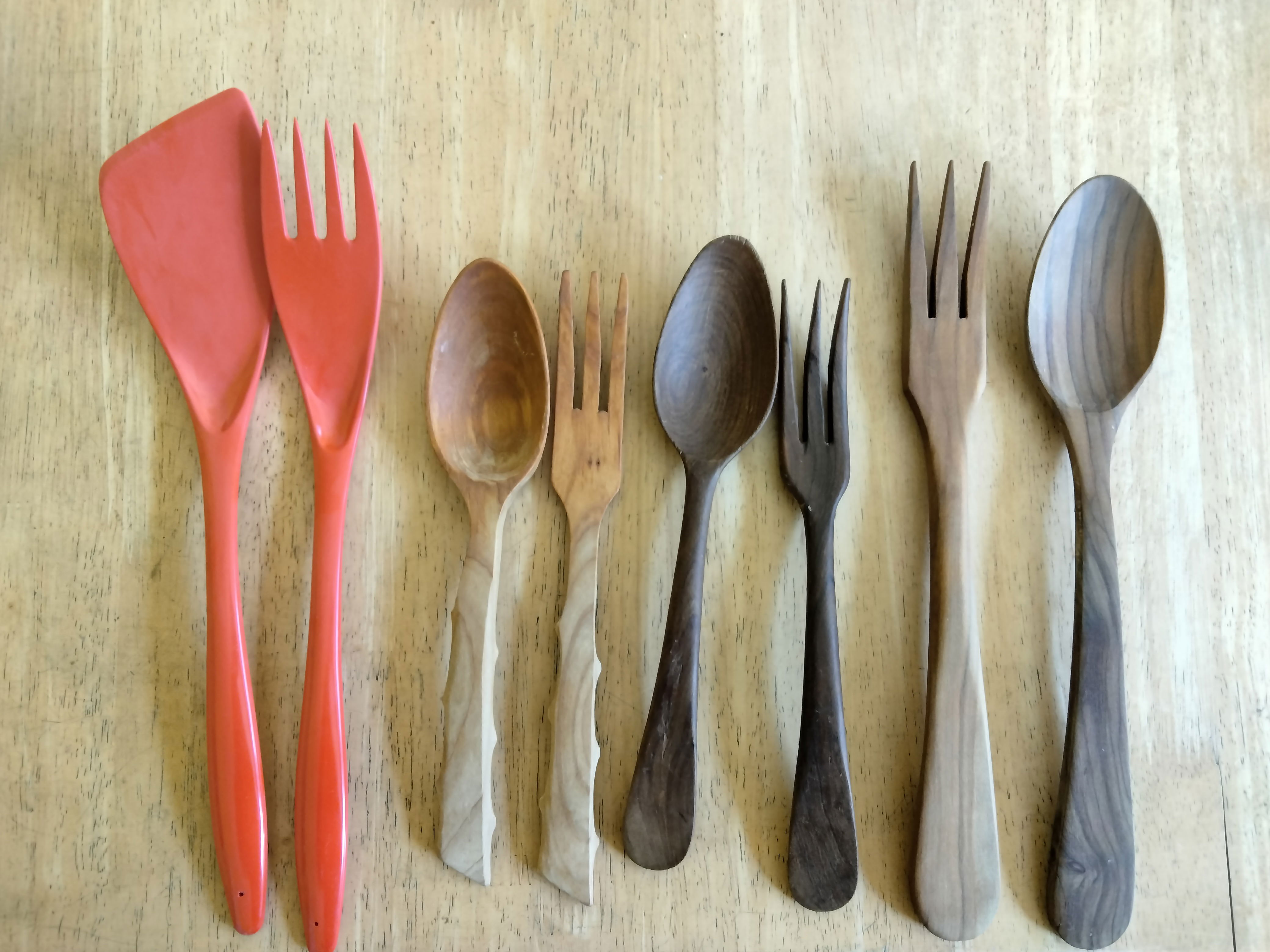 I find clothes a particular challenge. If it fits, it's in good condition, doesn't look too dated, and I still like it, how often do I need to wear it for it to qualify as an earmark? My lifestyle has changed. I no longer hold down a regular job. I gave away all but one suit, which I keep for serious occasions, like funerals. I prefer easy care fabrics to ones that require dry-cleaning or ironing. I do have at least six pairs of black pants, but they are of all different fabrics and styles. My future lifestyle is an unknown. Right now, it's jeans and sweats, with the periodic dress-up night, but when my days no longer consist mainly of downsizing and daily walks, will I want to look nicer more often?
Books are another challenge area. I've talked about my approach to books in a previous post, and we've made great headway in culling the collection, at last count down to just over 500. But 500 books is still 25 boxes, a lot to be put in storage while we live in furnished quarters. I've let go of the novels I've read. (No matter how much I liked them, I know I am unlikely to re-read them when there are so many new books to read. And there's always the library.) Also out the door--art books with only black and white pictures (unless its black and white photography), out-of-date reference books, and most cookbooks. I make copies of recipes I like. So much information can be found online these days. But looking up specific people, events, or facts online is different from perusing a book and discovering something new. I'll hang onto to those in subjects that interest me.
How about when an item you don't use often holds great sentimental value? Can this qualify as an earmark? Of course, it can; this is your choice. It's only when you become immobilized from making decisions because of emotions and assign most of your possessions to the earmark category that you'll find your downsizing stalled.
Here are a few earmarking tips:
Work by category, such as kitchen items, books, clothes, jewelry, linens.
Select and list the most often used items first. These are your no-brainers.
For duplicates, triplicates, etc. (where you only need one) choose one or whittle your choices down to two and see which one you gravitate towards in terms of actual use.
Put least used items that you aren't quite ready to part with right away in another space and note how much you miss these. This category might include items with sentimental value, which you don't actually use or actively display.
Find substitutes for infrequently used gadgets and items (such as my tagine example)
For books, CDs, DVDs, consider what you can access online.
Consider any future life-style changes. For example, will you be cooking less, or for fewer people, be less likely to entertain, very unlikely to do a previous hobby/particular athletic activity (like play tennis, ski, bowl), unlikely to go to events where formal dress is required?
For your challenge areas, enlist a trusted buddy to help you work through your considerations. It's probably best to choose someone who doesn't share your household.
Earmarking is just another version of culling. You may need to perform the process several times.